one:solutions Engineering ist heuer mit den Smart Lighting Projekt für den Constantinus Award 2022 nominiert!
Letztes Jahr durften wir für die Stadtwerke Feldkirch ein spannendes IoT-Projekt umsetzen. Dabei wurde die bestehende Infrastruktur digitalisiert und für die Steuerung der Straßenbeleuchtung ein retrofittes, dezentralisiertes IoT-System aufgebaut.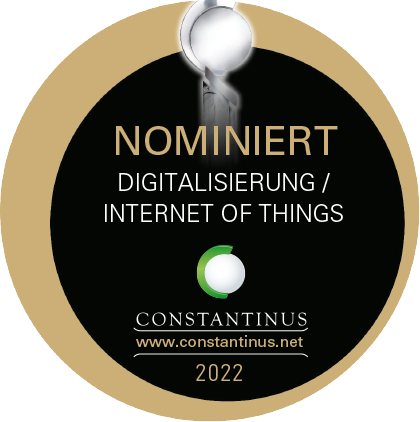 Nominierung in der Kategorie " Digitalisierung / Internet of Things (IoT)"
Nach intensiven Beratungen und einem zweistufigen Auswahl- und Bewertungsprozess hat sich die 84-köpfige Fachjury auf die Nominierten für den Constantinus Award 2022, Österreichs größten Beratungs- und IT-Preis, geeinigt. 39 Projekte dürfen sich nun über eine Nominierung freuen – darunter auch wir!
Grundlage der Bewertung war das bewährte Constantinus-Kriteriensystem, welches die Verbesserung der Wirtschaftlichkeit, die Stärkung der strategischen Position für den Kunden, die Beratungs- und Lösungsqualität sowie die Effizienz der Beratungsleistung, sehr umfassend bewertet.
Wir freuen uns sehr über die Nominierung in der Kategorie Digitalisierung / Internet of Things (IoT). Die  Preisträger werden im Rahmen der Constantinus Gala am 2. Juni in den Wiener Sofiensälen ausgezeichnet, bis dahin drücken Sie uns bitte die Daumen!
Über den Constantinus Award
Seit 2003 wird Österreichs großer Beratungs-, Buchhaltungs- und IT-Preis jährlich verliehen. Eine hochkarätige Jury bestimmt in einem zweistufigen Prozess, welche die kreativsten, innovativsten und anspruchsvollsten Projekte der österreichischen Beratungs-, Buchhaltungs- und IT-Branche sind. Der Constantinus Award wird jedes Jahr in einem anderen Bundesland verliehen. Informationen unter www.constantinus.net und www.facebook.com/constantinusaward.